Wann:
15.06.2022 um 15:00 – 17.06.2022 um 12:15
2022-06-15T15:00:00+02:00
2022-06-17T12:15:00+02:00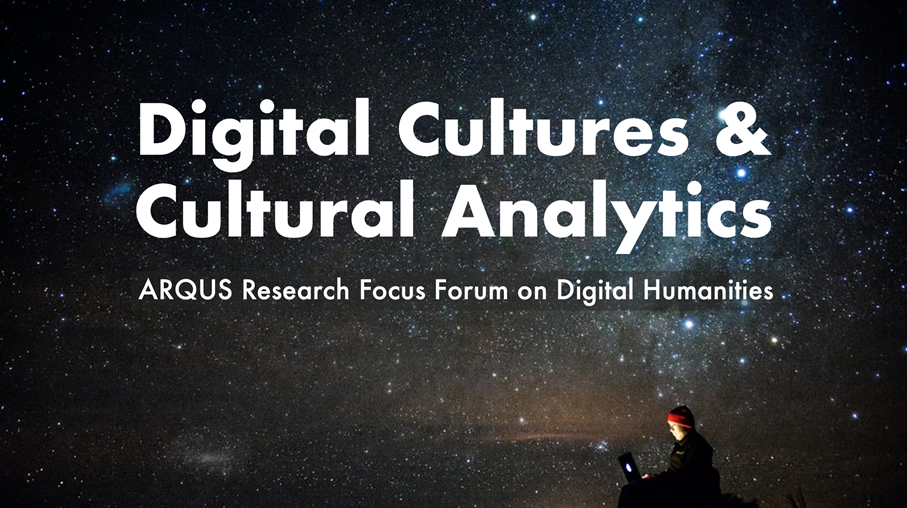 We are pleased to inform you that a large number of researchers have expressed their interest in the call for participation for the ARQUS Research Focus Forum (RFF) on Digital Humanities, which is to be held in Leipzig from June 15-17. Based on the respective disciplinary backgrounds and specific research interests, I am pleased to present a first preliminary program of the event.
---
June 15th, 2022 (Wednesday)
15:00 – 15:30 Welcoming and housekeeping (Manuel Burghardt)
15:30 – 17:00 Keynote "Exploring our Digital Past: Web Archive Analytics" (Martin Potthast)
June 16th, 2022 (Thursday)
9:00 – 10:30 Presentations of participants + discussion
Coffee break
11:00 – 12:30 Presentations of participants + discussion
Lunch break
14:00 – 15:00 Wrap-up discussion on shared topics and potential collaboration opportunities
Coffee break
15:30 – 18:00 Hands-on tutorial "Text Analysis and Visualization with R" (Silvia Gutiérrez)
June 17th, 2022  (Friday)
9:00 – 9:30 Summary of presentations / discussions so far (Manuel Burghardt)
9:30 – 10:00: Presentation on current EU funding opportunities (Gerhard Fuchs)
Coffee break
10:30 – 12:00 Project workshop: discussion of concrete ideas / groups for projects
12:00 – 12:15 Closing of the ARQUS RFF on DH (Manuel Burghardt)
---
One of the main goals of the RFF is to enable various ARQUS researchers from the field of digital humanities to get to know each other better. A shared interest of all participants will be  a fundamental interest in different phenomena of digital culture and in computer-based methods for the analysis of cultural data (cultural analytics).
During the RFF, the participants will briefly present their own research in thematic workshops on the basis of a current or planned research project. We will send you more detailed information on the duration of these short presentations as soon as it is clear how many participants are actually planning to give a talk.
In addition to these presentations, each of which will be discussed in smaller working groups, there will also be a keynote given by Prof. Martin Potthast (Text Mining and Information Retrieval, Leipzig University) on "Exploring our Digital Past: Web Archive Analytics". Furthermore, we will offer a hands-on tutorial in "Text Analysis and Visualization with R".
Since we also want to use the RFF to develop joint research perspectives and explore cooperation opportunities, there will also be a presentation with an overview of current EU funding opportunities for such international cooperation projects.
Attending the RFF is free of charge. For travel bursaries ask your local ARQUS contact person. Please note that we are planning the event as a live event at Leipzig University (Augustusplatz 10, 04109 Leipzig), there will be no virtual participation.
If you are planning to join the ARQUS RFF on Digital Humanities in Leipzig, please register here until May 6th, 2022. We will ask you to provide a preliminary title for your project presentation and to indicate if you plan to attend the hands-on tutorial.
We are looking forward to welcoming you to Leipzig in June! In case you have any organizational questions, please reach out to FDHL@uni-leipzig.de.
All the best,
Manuel Burghardt & Vera Piontkowitz