Workshop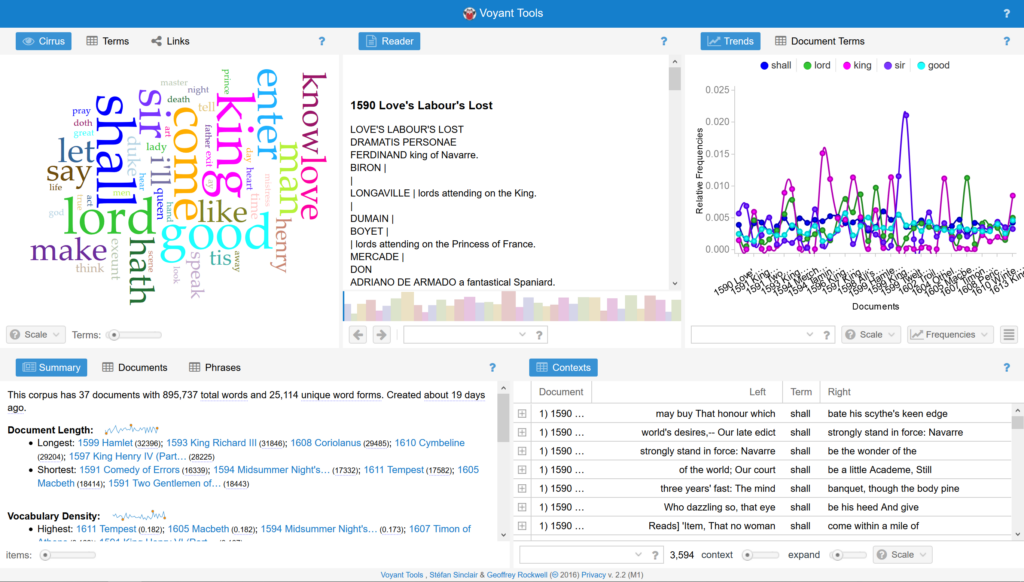 Friday, May 20th, 9-11 AM
P702 (Hauptcampus Leipzig University, Augustusplatz 10, 04109 Leipzig)
Face-to-Face Event
Large Text Analysis using computational methods, also known as Distant Reading (DR), can help uncover previously unseen patterns and trends of a specific corpus. But how can we do this with easy-to-use tools? In this workshop we will learn the basics of DR using an intuitive web-based tool called Voyant Tools.
The workshop will be held by Silvia Gutiérrez. She is a PhD candidate and DAAD Scholarship recipient at the Computational Humanities Group in Leipzig. She is a trained digital humanist (Würzburg University / King's College London) with a background in Linguistics and Spanish philology. In her PhD, she investigates state-of-the-art text mining approaches to detect and extract patterns in thousands of digitized dissertations.
---
The workshop will take place in English. Please bring you own laptop. No prior technical knowledge is necessary to participate in the workshop. If you want to participate in this face-to-face workshop, please register here. Please consider the Leipzig University Covid-19 regulations.
---
Wir möchten Sie und Euch am Freitag, den 20.05.2022 von 9:00-11:00 Uhr herzlich zum Workshop "Introduction to Distant Reading with Voyant Tools" einladen.
Die Analyse von Text mithilfe computergestützter Methoden, auch bekannt als Distant Reading (DR), kann dazu beitragen, bisher unbekannte Trends und Muster in einem bestimmten Korpus aufzudecken. Der Workshop dient dazu, die Grundlagen von DR anhand eines einfach zu bedienenden, webbasierten Tools namens Voyant Tools zu erlernen. Der Workshop wird von Silvia Gutiérrez, PhD-Studentin an der Computational Humanities Gruppe in Leipzig und Expertin für Text Mining und Natural Language Processing, gehalten. Der Workshop richtet sich gleichermaßen an Studierende, Promovierende, Mitarbeiter:innen und an alle anderen Personen, die Interesse an der Anwendung von Methoden der Digital Humanities haben.
---
Der Raum für den Workshop wird noch bekanntgegeben. Der Workshop wird auf Englisch stattfinden. Zur Teilnahme am Workshop sind keinerlei technische Vorkenntnisse nötig – es muss lediglich ein eigener Laptop mitgebracht werden.
Wenn Sie am Präsenz-Workshop teilnehmen möchten, beachten Sie bitte die Corona-Regeln der Universität Leipzig. Melden Sie sich hier für den Workshop an.